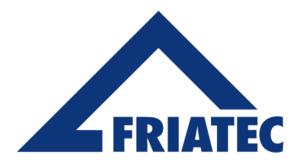 FRIAMAT 7 basic
Fusion unit without documentation function
Powerful universal fusion unit FRIAMAT 7 basic
State-of-the-art converter technology with active cooling.
Bright colour TFT display
With mini scanner, reader wand or 1D/2D scanner (2D barcodes according to ISO 12176-5)
Extra long fusion cable (4 m)
Extra long power cable (5 m)
Weight approx. 12.8 kg
Note:
Possibility of updating the FRIAMAT software via the USB interface by the user.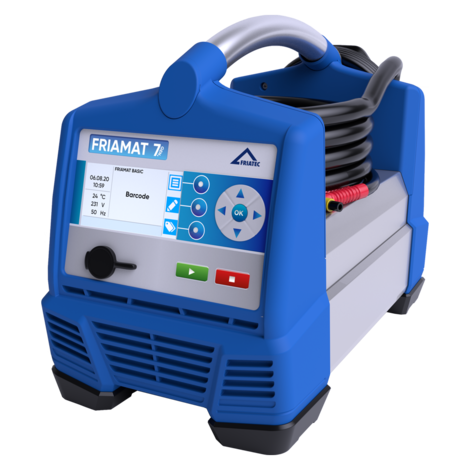 | SKU | Design | Weight kg |
| --- | --- | --- |
| 611130 | With mini scanner | 12,800 |
| 613130 | With reader wand | 12,800 |
| 614130 | With 1D/2D scanner | 12,800 |
Technical data 1)

FRIAMAT 7 basic

Type of device

Universal fusion unit without documentation function

Model with mini scanner

Order no. 611130

Model with reader wand

Order no. 613130

Model with 1D/2D scanner

Order no. 614130

Maximum diameter

Up to d 1200 2)

Input voltage section

AC 190 V – 250 V

Frequency range

44 Hz … 66 Hz

Current consumption

AC 16 A maximum

Power

3.5 kW

Unit fuse

16 A sluggish

Welding tension

8 – 48 V

Output current

maximum 110 A

Welding current monitoring

Short circuit and interruption

Barcode type

1D-Code 2/5 interleaved

2D-Code (QR; Aztec; Data Matrix) according to ISO 12176-5

Interface

USB

Documentation of fusion data

No

Documentation of traceability data

No

Data memory

-

Log format

-

Manual emergency barcode input

Yes

FRIAMAT preCHECK function

Yes

Software update via USB interface

Yes

Fusion-Pass

No

Supervisor-Pass

No

Start/stop pass for remote control

Optional (Order no. 624003)

Working temperature range

-20 °C ... +50 °C

Language variants

23

Connection cable

5 m with contour plug

Fusion cable

4 m with connection plug Ø 4 mm

Weight

approx. 12.8 kg

Dimensions W x D x H

260 x 500 x 340 mm

Casing

Protection category IP 54 / protection category I

Approval / quality

CE, ISO 9001, WEEE Reg. No. DE 49130851, RoHS

Accessories

Operating instructions, transport box
1) Subject to technical modifications.
2) With FRIAMAT 7 basic, FRIALEN and FRIAFIT safety fittings up to d 900 can be fused in the entire working temperature range from -20 °C to +50 °C.
Utilising processing fittings from other manufacturers is possible even up to d 1200 and possibly larger. However, the specific power requirement of the fitting at the prevailing processing temperature must always be clarified beforehand with the fitting manufacturer.
Powerful electrofusion unit with state-of-the-art converter technology and flow-optimized, active cooling.
High-resolution, extremely bright 4.3 "TFT color display.
With mini-scanner, reader wand or new 1D/2D scanner for reading 2D barcodes according to ISO 12176-5, Adapter bag, language selection, adjustable buzzer volume, manual emergency entry. Extra-long power cable (4 m) and extra-long fusion cable (5 m). Weight approx 12,8 kg.
Continuous monitoring of the entire fusion process and all device functions.
With FRIAMAT preCHECK function: The most advanced way to fuse with foresight. The FRIAMAT automatically determines whether the next fusion can be performed completely to the end.
The user himself can install software updates via USB interface.