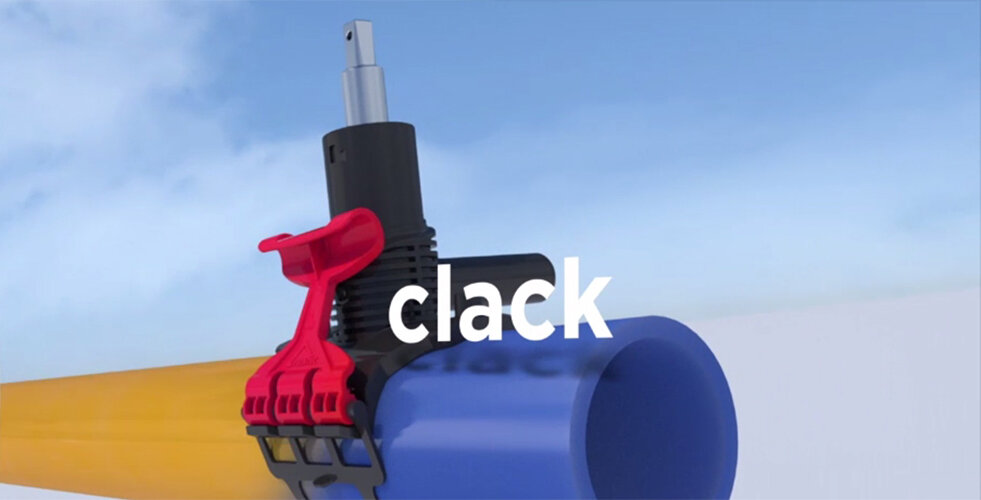 For more efficiency and safety in house connections
Fast, easy and safe to install​​ with the RED SNAP – universal for gas- and water use​
Particularly hygienic​​ through to the use of suitable and approved materials​
Durable and economical​​
Thanks to superior, long lasting material properties and​ perfect fit onto the pipe​ with corresponding installation kit DBS
The DAV with RED SNAP​ offers up to 50% shorter installation times*
*Installation times = Scraping, cleaning, installation onto the pipe, fusion- and cooling time up to the tapping process depend on function and user in individual cases.​
Example: DAV d 110/ d 32 – in principle transferable for the whole product family
In addition to the fast assembly and simple alignment on the pipe, no further control for the proper clamping needed: Clamping instead of screws, with tools.
Better hygenic performance, a new "design & material selection makes it possible"
Tapping with the rotating –puncher made of stainless steel in average with a reduction of turns
Ideal – Shape of the thread prevents deposits and delivered perfect flow conditions (low pressure-loss).
Use of suitable materials, acc. to the latest drinking water requirements​​
PE100 & selection of the used materials incl. sealings with extra small contact areas.
Perfect fit onto the pipe & superior long lasting materials in combination
The RED SNAP enables the perfect fit onto the pipe, easy and reliable
Optimal energy penetration due to uncovered heating coils, ideal constructive design of the fusion zone in relation to the pressurised area
New installation kit DBS with locking system ac. to DVGW process sheet GW336, with optional foam rubber ring